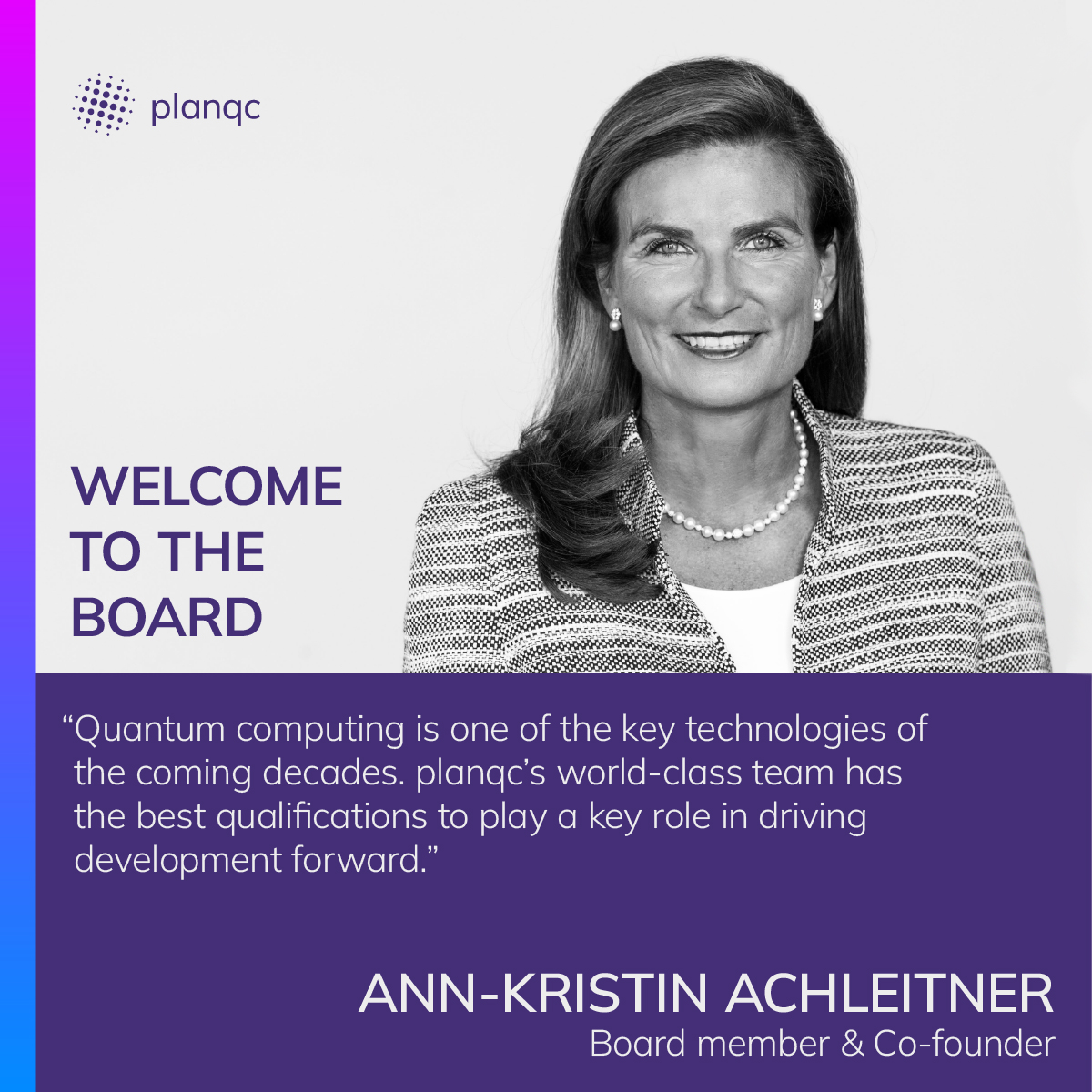 Ann-Kristin Achleitner joins the advisory board
September 21, 2022
We are proud to announce that the business expert, multi-board member and investor Ann-Kristin Achleitner has joined planqc's advisory board. She will advise our management team on strategic and financing issues.
Quantum computing is one of the key technologies of the coming decades. planqc's world-class team has the best qualifications to play a key role in driving development forward. This will strengthen Germany's chances of converting our strong position in research into economic strength and an internationally competitive advantage in this important field,
says Ann-Kristin Achleitner.
Ann-Kristin Achleitner is a Distinguished Affiliated Professor at the Technical University of Munich and a member of the supervisory boards of Munich Re, Linde, and Lazard. She is also involved in the Federal Chancellor's Future Council, as Vice President of the German Academy of Science and Engineering (acatech) and member of the board of the Institute for Advanced Study (IAS) in Princeton.
Ann-Kristin is an internationally recognized expert in corporate finance. Her know-how, her experience and her impressive network are very valuable for planqc. I am happy that Ann-Kristin supports our journey. Together we want to become one of the leading quantum computing companies,
says Alexander Glätzle, CEO of planqc.
Other members of the advisory board are Benjamin Erhart (UVC), Rick Hao (Speedinvest) and the two managing directors Alexander Glätzle and Sebastian Blatt.
planqc uses a unique tech stack to build quantum computers that store information in individual atoms. Founded in 2022 by a team of scientists from the Max Planck Institute of Quantum Optics and the Ludwig-Maximilians-University of Munich, it is the first startup emerging from the Munich Quantum Valley, one of the leading centers for quantum technology in Europe.
Back Home